The Grinning Wolf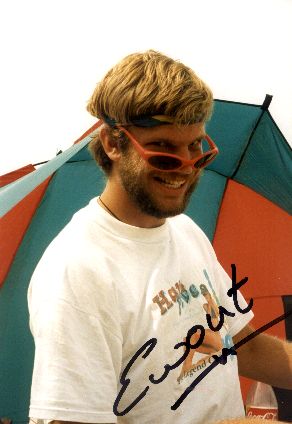 A Little Night Music

Hi, My name isÖ(no,no, not slim shady)
My name is Ewout, or Jímaeta or Grinning wolf. All three names have a spiritual meaning to me as I believe names to affect peoples lives in a pretty big way.
For instance; My mother saw a huge frysian (blond, bulging muscles, tends to swing axes around) when she thought of the name, and here I am at 6í6Ē and strong as a bull (My sunsign). In Jímaeta Isee the seer in me. The mysterious farseer that yearns for insight in the future. He is the one I see in robes. A Hierophant (A strong card in my deck. It tends to tell me f Iím on the right or wrong track, like the Magician does for me.) Last but not (absolutely not) leastÖ.Grinning wolf. Perhaps I was a Shaman in a past live, perhaps I am to be in this. I donít know, but I love wolves dearly. Wolflike dogs are like close friends, even if Iíve never met them before. (At times I prefer animal company above human, especially the lupine dogs are so refreshingly honest.) Why grinning wolf I keep wondering to myself, but then I look into the mirror or look above at the picture Cheryl has so kindly placed and I knowÖ..Do you?
I have something with the american natives. At a festival I attended a dreamtravel and met two spirit-guides. A stern looking hawkfaced indian with long flowing black hair (I think it shone wonderfully) and a jolly roundfaced native american with his hair in braids. (two) Both were warriors, I could tell, and both had half their face change into that of a wolf. (I actually saw the jolly one at another quest that didnít really work out like it should. I saw him coming from a logcabin laughing his ďarseĒ off. Was hard for me to stifle my own laughter.) I havenít seen them again, but I know they are there. I can feel them at times and it comforts me.
Now my life isnít all roses and moonlight. I am a 26 year old learning to live with gifts that not many understand and most of the time Iíve had to live a lonely life of misunderstanding. Besides, knowing that youíll have to learn a lesson, doesnít always make it easier. Usually just harder. (Ignorance really is bliss at times.) Still, I try and get by with help from my friends (Cyber and flesh, though both are real and dear to me). Tao of Pooh and Te of Piglet have helped me through some rough times as well.
Right now Iím starting up to become a teacher. Hopefully next January Iíll be able to stand in front of the class and teach history, even though I havenít got my entire diploma. (I Thank the Gods each dayÖ.well mostlyÖ that my little country needs teachers so desperately. Iím from the Netherlands by the way. ;) ) I have planned to work part-time as a teacher and to study history parttime in order to be able to teach at universities as well. (Big plans this boy)
Well, that rounds it about up. Perhaps itís informative that I try to follow the teachings of a carpenter called Jeshua, but donít consider myself Christian. (Hey, I Pray to Odin at times and ask Loki to throw me some good dice. And Iím not going to tell you what I ask Freya to do for me. Sweet momma!)
I may sound a bit insane to some, but hey, most ďsaneĒ people are sooooo boring.
Love, life and prosperity. (Live long and prosper. btw)
Címon, gimme a good howl ladsÖ..









Background courtesy of Sam Silverhawk Native American Designs



Midi courtesy of Camelot Jukebox


This page was updated August 31, 2004.