Lois and Eunice, Spiritual Mothers:
Christian Archetypes for The Empress Key III
(c) Cheryl Lynne Bradley 2002, all rights reserved
"Men are what their mothers make them."
Ralph Waldo Emerson

"She is above all things universal fecundity and the outer sense of the Word. This is obvious, because there is no direct message which has been given to man like that which is born by woman; but she does not herself carry its interpretation."
from "Pictorial Key to the Tarot" by Arthur Edward Waite

"Mothers write on the hearts of their children
what the rough hand of the world cannot erase."
Author Unknown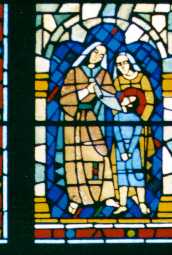 The Apostle Paul wrote his last letter from Rome's Mamertine Prison before he was martyred by Emperor Nero, to his dearly beloved Apostle Timothy. The name Timothy means "one who fears God".

Timothy was from Lystra in Asia Minor, in the Province of Lycaonia, suffragan of Iconium, where Paul had travelled on his first missionary journey in 46 AD. Paul had healed a lame man and an enthusiastic population wanted to offer a sacrifice to him and to Barnabas. The people had mistaken them for Jupiter and Mercury. It took a lot of convincing to contain their crowd of admirers. This event caused significant problems for the apostles that followed them to Iconium.

Timothy, his mother, Eunice, and his grandmother, Lois, were probably converted under Paul's ministry but Timothy was instructed in the faith, both scripturally and by personal example, by Eunice and Lois. Lois was particularly well studied in the Old Testament.

We are first introduced to Timothy's mother, Eunice, in Acts 16:1,2 and we learn some personal information about her. Eunice is a Greek name that is a derivative of the name Nike, the Greek goddess of victory. Her name means "conquering well" and expressed a victory of a good or happy nature. According to Jewish tradition, Eunice's marriage to Timothy's father would have been illegal as he was a Gentile. It is assumed that she was not a practicing Jew at the time of her marriage but became a Christian, along with her mother, at a later date. Timothy was raised as a Christian in a community that worshipped the Greek gods . Timothy's father was a Greek and in respect of this Timothy had not been circumcised as a baby.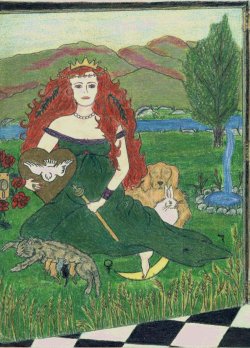 "....and behold a certain disciple was there, named Timotheus, the son of a certain woman, which was Jewess and believed; but his father was a Greek; Which was well reported of by the brethern that were at Lystra and Iconium." Acts 16:1,2

"Greatly desiring to see thee, being mindful of thy tears, that I may be filled with joy; When I call to remembrance the unfeigned faith that is in thee, which dwelt first in thy grandmother Lois and thy mother Eunice; and I am persuaded that in thee also." II Timothy 1:4,5

Lois means"agreeable" or "desirable" and she is the only woman ever referred to in the Bible as a grandmother. There is no information available in the scripture about Lois's husband. As the name Eunice is of Greek origin, we could assume that he was Greek as well. His absence is probably indicative that Lois was a widow. Paul called the faith of Lois and Eunice "unfeigned." The Greek word which it is translated from means real, genuine, sincere and without hypocrisy.

When Paul returned to Lystra in 52AD, Timothy was ready to accompany him in his missionary journeys.For the rest of Paul's life, approximately another 20 years, Timothy was his most faithful apostle and Paul loved him like a son. The faith and knowledge of Lois and Eunice shaped the young man whom Paul would appoint to lead the church at Ephesus and pen his last letter to. Paul's respect for these two ladies as women of faith is clearly evident and it is obvious, in the face of his impending execution, he found comfort in remembering time spent in their company and in their home.

Archaeological excavations have discovered the exact site of the town at Khatum Serai which is twelve miles south of Iconium. It is marked by ruins on a hill approximately one mile north of the present community.

10 Principles for Spiritual Parenting

1. Know God cares for you.
2. Trust and teach that all life is connected and has a purpose.
3. Listen to your child.
4. Words are important, use them with care.
5. Allow and encourage dreams, wishes, hopes.
6. Add magic to the ordinary.
7. Create a flexible structure.
8. Be a positive mirror for your child.
9. Release the struggle.
10. Make each day a new beginning.

from "10 Principles for Spiritual Parenting" by Mimi Doe with Marsha Walch, Ph.D."


"For generations, sadly, the mother who wanted to engender esteem in herself and her offspring needed the very qualities that were expressly forbidden to her: vehemence, fearlessness and fearsomeness. For a mother to happily raise a child who is slightly or largely different in psyche and soul needs from that of the mainstream culture, she must have a start on some heroic qualities herself. She must be able to steal these qualities if they are not allowed, shelter them, unleash them at the right time, and stand for herself and what she believes. There is almost no way to make oneself ready for this, other than to take a deep draft of courage, and then act. Since time out of mind a considered act of heroism has been the cure for stultifying ambivalence."
from "Women Who Run With the Wolves" by Clarissa Pinkola-Estes








This page was created April 16, 2002.