Fractal Universe Tarot
(c) Nicole Cormier, all rights reserved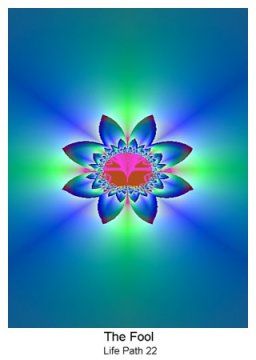 This free script provided by JavaScript Kit
"I love Tarot and I love Numerology. As a tribute to numbers, I chose to create my artwork using fractal programs such as Kaosrhei, Winfract, and Tierazon. Its been hinted to me that this isn't the greatest deck in the world for "fortune-telling" but that isn't why I created it. A lot of authors out there are constantly emphasizing the need for the student of Tarot to create their own deck at some point. Since 1989, when I was 17, I have been using everyone else's cards and over the last few years, I felt that my readings were beginning to lack depth and were becoming one-dimensional. When I look at these cards its like walking through a magic door into the collective unconscious that connects us all. I realize that for all of us this comes through many different sets of images, which is why at some point we probably all get the urge to create our own cards. For a long time I used Thoth, and then The Vampire Tarot, The Hallowe'en Tarot, The One World Tarot, Cosmic Tribe, and Crow's Magick. I welcome all comments and feedback from anyone who uses this deck."

Nicole Cormier, Creator "Fractal Universe Tarot"




Future Endeavours is available quarterly as a permission-based opt-in email list, the sign-up box is above, or as a Yahoo Group. Past Issues are archived in the Yahoo Group or at the Master Index page.
Future Endeavours trimestriel est disponible comme une autorisation à base opt-in e-mail liste, l'inscription est au-dessus de boîte, ou comme un groupe Yahoo. Les anciens numéros sont archivés dans le groupe Yahoo
ou à la page d'index maître. Anglais seulement.