My picks for wines for this season of good food and company are as follows in no particular order
Cave Springs Reserve Riesling, about $18, is available at your nearest LCBO with a Vintage Corner or Boutique. This stuff is special. Riesling is an all around winner. With turkey, any seafood or just for swilling, this wine is consistent year to year and can benefit from a couple of years in a cellar.

Malivoire Chardonnay from Ontario also is a great food wine and a nice quaffer. Chardonnay, to me, has changed in style becoming more fruit forward, less oakey and much easier drinking in recent years. It is about $22 a bottle.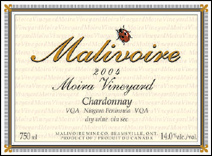 If you like Icewine but cant deal with the price, try a late harvest Riesling or Vidal from any decent Ontario winery: Chateau du Charmes, Peller Estates, Inniskillin are all excellent with desserts such as black forest cake, apple pie or whatever even canolis.
For Red Wine
Carmenere is a Merlot like variety of grape only grown in Chile. It is like a spicy merlot. Great with Lamb, venison steaks and old cheese. This is going to be the next big thing in drinkable red wine at a fair price. I haven't seen one yet over 20 bucks. The Calina Carmenere in the latest Vintages release was very approachable for $16.95

The best deals in red wine are in Spain and Portugal. These areas prices are always reasonable for the relative quality of the juice. When you pay $20 for a bottle of wine from one of these countries anywhere else the same bottle would be $30 at least. All will benefit from air time either by decanting or early opening.
If you have to drink red with everything, a California Zinfandel like Cline or Rosenblum and New Zealand Pinot Noirs like Rodney Strong can be reasonably sloshed down with turkey
Thats all for now Top of the Season. Brian