It is with great sadness and heavy hearts that we must advise that Atham Z passed away on May 25, 2008, peacefully in her sleep. She had been struggling with ill health for a long time. Our sympathies to her family, friends and to the many people who counted on her strength, wisdom and spiritual guidance over the years. We know she and Marta will be swapping recipes and sharing a few laughs.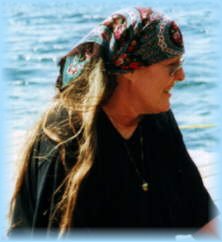 Atham Z
May 25, 1951 - May 25, 2008
Her own website has been taken down. This page will be converted into an appropriate tribute page for our valued friend, gifted reader and the Vice President of Tarot Canada.

Atham-Z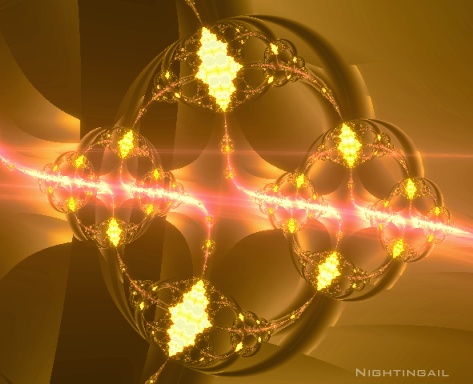 Why Atham?? by Atham Z
ATHAME: A black handled, double-edged sword. Principally used to cast and dissolve the magic circle, for which purposes it is interchangeable with the magic sword.
My name is Atham, not athame, although I have been accused of having a knife edged tongue in the past!
These two names have a highly coincidental similarity. I take no part in any witchcraft activities but I do pride myself on trying to pierce to the heart of issues.
Atham is an acronym derived from the following: "A"ll "T"hings "H"ave "A" "M"eaning. The letter "Z" is reportedly the Greek letter meaning "He is alive.".
By choosing this name I feel that I acknowledge the unity of the universe and exclaim to the world my vital role in its workings.


Atham-Z's booklet "How to Develop Your Psychic Skills - for the Novice and the Professional"
is now available by clicking here.

You can read an excerpt of her book Here.



A Spring Cleaning Blessing © Atham-Z 2004-10

An Astrological Nasty © Atham-Z 2000-10

Amuse Your Kids with Pyschic Games © Atham-Z 2002-10

Cat Superstitions © Atham-Z 2006-8

Spirit of Truth:
Native American Reading Cards by Maurice Ramsey: A review
© Atham Z 2005-2008

Loving the Potential???? 9 of Cups Reversed
© Atham Z 2005-2008

8 of Wands Reversed: Impatience
© Atham Z 2006-2008

Astral Travel and Out of Body Experiences
© Atham Z 2001-2008

Ever Seen an Aura?
© Atham Z 2002-2008

Father Time's Eccentricities
© Atham Z 2002-2008

Kissing Under the Misteltoe
© Atham Z 1999-2008

What on earth is Aromatherapy, besides yet another
gimmick for selling us interesting smells?
© Atham Z 2000-2008

Psychic Junkies
© Atham Z 2001-2008

Psychic Pimps
© Atham Z 22001-2008

Oh Tannenbaum:
The Origins of the Christmas Tree
© Atham Z 2003-2008

Howling at the Moon!
© Atham Z 2008

Owls, Dopplegangers and You
© Atham Z 2008

Have a Cuppa: Herbal Teas
© Atham Z 2008


Magical Brooms or Besoms
by Atham-Z © 2003-8

Try Invisible Writing Predictions!
© Atham-Z © 2003-8

My Own Near Death Experience
©Atham-Z © 2006-8

Sugar Plum Fairy
by Atham-Z © 2006-8

Sundogs, Mock Suns or Parhelia
© Atham Z 2005-8

Just WHO is St. Nick
© Atham Z 2004-8

Psychics and Cops, Friends of Foes?
© Atham-Z 2005-7

Egads, It's Raining Frogs
© Atham Z 2000-2008

Salty Superstitions
© Atham Z 2003-8

Fiery Forecasts
© Atham Z 2003-7

Crow Lore
© Atham Z 2000-2008

What Do Your Doodles Mean © Atham-Z 2000-2007



Book Review: "The Field" by Lynne McTaggart
© Atham-Z 2003-8

Finding and Using Lucky Charms
© Atham-Z 2001-2008

Symbolism In Prophesy
© Atham-Z 2000-2007

The ESP Test © Atham-Z 2001-8.
As featured at the Spring Spirit Workshop Festival

Atham-Z, Articles "Blue Moon" & "Crystals" © 2001-8

Finding and Using Your Individual Lucky Number
by Atham-Z © 2001-8

Are Tarot and Psychic Readings Accurate as a Result of Direction by the Devil?
Atham-Z © 2001-8
Modern Medicine Humour, Author Unknown,
Shared with all by Atham Z. She loved a good joke!

Skeeter Stuff, Author Unknown,
Shared with all by Atham Z.

Hush Little Baby, Author Unknown,
Shared with all by Atham Z.

THU., MAR 1, 2007 - 1:00 PM

Voodoo hex at the fire station?
GENA KITTNER
608-252-6139
gkittner@madison.com
MIDDLETON - A Middleton fire marshal has been on paid leave since July while officials investigate allegations he used a department computer to consult with an online psychic and conspired with others to buy an Internet voodoo hex against the chief.
The consultations by Tom Weber sought to divine whether he and others would be successful in removing Fire Chief Aaron Harris, Harris said. Searches of department computers also found Weber had exchanged e-mails seeking to discredit and disparage the chief, Harris said.
"It was all legally obtained in our district-owned computers," Harris said of the investigation. "This is really creepy stuff."
A disciplinary hearing for Weber is scheduled for March 19 before an arbitrator, who will make a recommendation to the Middleton Fire Protection District Commission.
But Bruce Ehlke, attorney for Firefighters Local 311, said the e-mails are protected speech. The union has filed a complaint on behalf of Weber with the state Employee Relations Commission.
"The hex thing, that was a joke" Ehlke said. "The hex wasn't Weber's joke. The person stated that joke in an e-mail sent to Weber's personal, private e-mail account. The whole thing about the psychic is a sideshow."
But Harris isn't laughing. He said the contact with the psychic and other e-mails are part of a larger effort started in 2004 by a handful of fire department employees and volunteers to discredit him and force him to resign.
One of the e-mails Weber received indicated someone had bought a hex "wishing harm upon me," Harris said, although he hadn't seen the alleged curse.
Weber could not be reached for comment.
Harris was elected chief in 2003 and later appointed to the position permanently by the Fire Commission.
Since being named chief, Harris has begun restructuring the department, including changing who conducted fire inspections and when they were completed. The changes affected Weber but did not threaten his job, he said. Harris said it was during this time a small group of employees and volunteers began working against him.
In July 2005 more than 20 current and former Middleton firefighters wrote a letter to the commission complaining of safety concerns, fiscal lapses and poor personnel practices at the department.
> A similar complaint was filed in 2004. Harris was cleared of wrongdoing in both complaints.
The union has also filed three complaints against Harris with the WERC since he was appointed chief.
It was while researching the status of a WERC hearing through the online search engine Google that Harris discovered Weber's psychic connection.
On an archived page of a psychic Web site he found a message from someone identifying himself as Thomas Weber asking about his boss, Aaron Harris.
"Our union has filed grievences with the WERC," the message read. "He is on a major power trip and has been treating us like trash, will our union obtain a favorable outcome in the hearing."
The psychic, identified only as Atham Z, was not encouraging: "I don't feel you will be completely happy with the outcome of the hearing. I expect your boss will be warned but not disciplined for his past actions."
After finding the message and several others online, a computer technician checked the district's computers and found the exchanges were happening at work. The e-mails and psychic communications date to 2004, or to around the time Harris was named chief.
Harris confronted Weber with the findings in May and formal disciplinary charges were filed with the Middleton Fire Protection District ComMission in June.
Ehlke said Weber received a number of e-mails over two to three years in which other people criticized the chief.
"Some of the e-mails were fairly forcefully stated," he said. "People were very concerned about what was going on."
Weber received the messages because he was seen as the primary contact person seeking union representation for the regular full-time employees, Ehlke said.
He said the alleged psychic contacts or alleged attempted voodoo curse weren't "a major issue."
"The more important concern is . . . the fire chief's real objection was to these e-mails Weber received, sometimes couched in intemperate language," he said.
Harris disagreed.
"I don't find it to be a joking matter, nor do I believe it was a joke."